An interactive 3D jewelry designer
An interactive 3D WebGL jewelry customization platform, which allows consumers to design their own jewelry in minutes by using simple 3D design tools.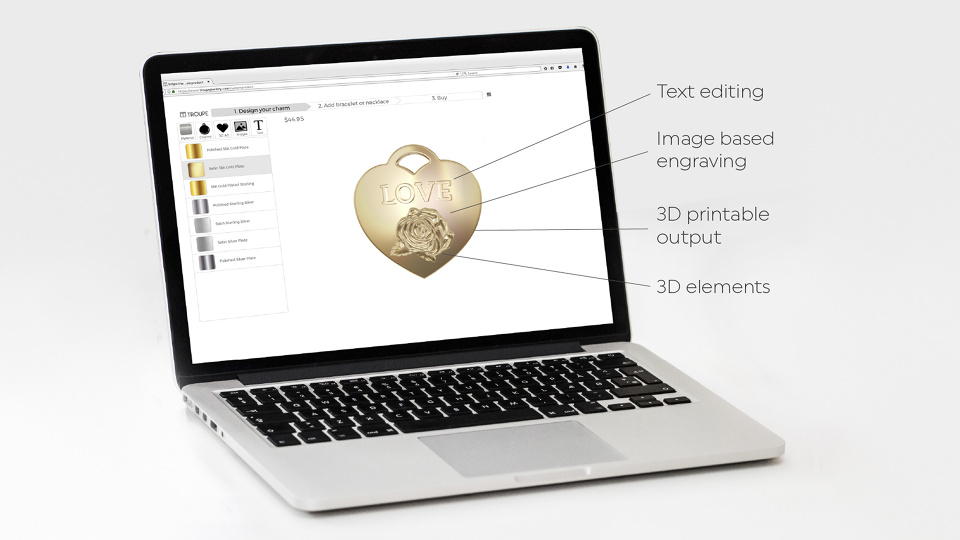 The Client
Kindred Brands Inc. is a US-based startup company, specializing in customizable 3D jewelry printing technologies. They are the winners of the Boston Innovators Group startup competition. With great vision and ambition in mind, Kindred Brands Inc. aims to break into the global jewelry market (which is currently $250 bln in size and still growing) with the Troupe project. The Troupe is a 3D, printable charm and pendant platform with customer operated design and a massive virtual marketplace, which empowers consumers to design their own jewelry in minutes by using simple 3D design tools.
The Problem
Today's consumer market is looking for customizable solutions more than traditional. Visit the Nike homepage and see for yourself: they are not asking you to shop anymore, they are asking you to customize your shoes.

Customizable fashion is exploding in the 2D world. You can get anything printed on all kinds of apparel or footwear, but in the 3D world, customizing your own product becomes too complex for the consumer. Kindred Brands Inc. is now stepping in to change that. Troupe targets to make 3D customization easy and provide a platform for jewelry designers and their customers to create, buy, and sell astonishing jewelry.
The Solution
Kindred Brands Inc. partnered with Indeform on the Troupe project. The challenge was to create a photorealistic and interactive 3D designer that runs directly on a web browser in real-time. The solution required data and rendering speed optimizations, geometry, vector math, GLSL, e-commerce integration, management and cloud computing expertise on backend servers.

Our 3D developers were also faced with a task to design and create a super simple customization tool that worked like a LEGO. To create jewelry, the user has to arrange chosen 3D objects from an extensive library or upload any 2D image which is then converted to 3D. Every user is also able to take an image and turn it into brass, silver or gold jewelry. Once the customers' design is complete, they can buy it or sell it on the Troupe marketplace.

Another challenge our developers faced was to design and develop backend cloud management for printable 3D models generation. To deal with that, they developed sophisticated task management and distribution methods for 3D printing ready mesh generation and processing.
Conclusion
Kindred Brands Inc. made it possible for everyone to design their own jewelry, set up an online store to sell, and shop for other custom jewelry from designers all over the world. This is the first time in history that customers with no previous jewelry design experience can produce their own beautiful keepsakes in minutes, all in photo-realistic 3D. As a purely virtual inventory platform, Troupe can realistically expect to become the largest topical jewelry store in the world, and we are very proud to have put all our expertise and efforts to realize this great ambition.