Virtual Outfits - Fashion E-commerce Platform
Interactive, 3D Web-based fashion platform for e-Commerce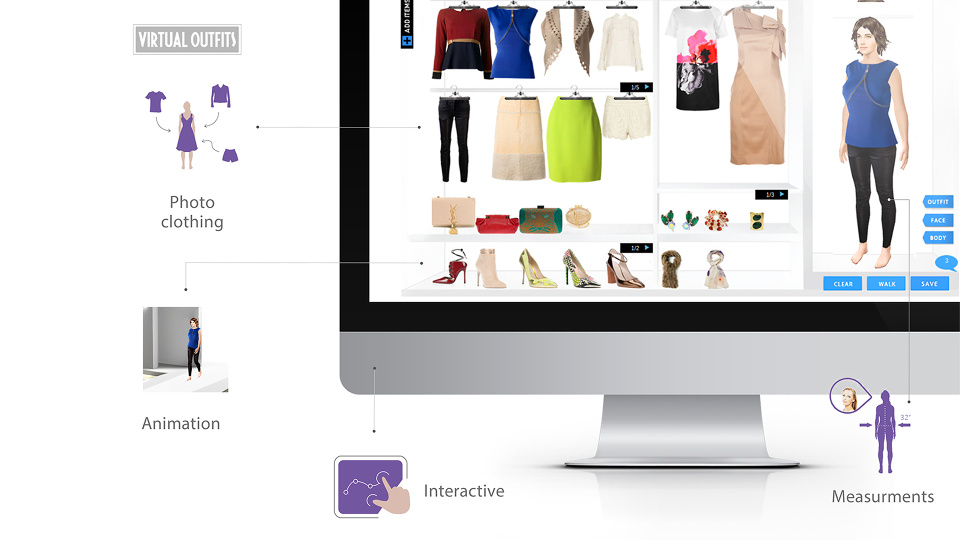 The Client
Virtual Outfits was born from the epicenter of fashionable finds – where socialites and celebrities constantly push the envelope to elevate fashion trends – Los Angeles, California. The brain behind this forward-thinking organization is comprised of high-end engineers, e-commerce experts, and fashion enthusiasts.
The Problem
Virtual Outfits desperately needed a solution for virtual clothing space with social media features and a 3D avatar with good real-time performance on the Web and mobile. The main requirements were to dress the avatars in a paper-doll manner with the possibility to change their body measurements, face and skin color, hair, and cloths. They trusted Indeform to fulfill these requirements.
The Solution - Fashion E-commerce Platform
Virtual Outfits is an innovative e-commerce platform that is aimed at mixing and matching clothes and has features of social networks. The platform allows customers to create an entire catalog of looks online which then can be, viewed by other users and edited based on their feedback. Final looks can also be purchased by the creators. It was a very interesting task and we jumped deep into it from the very start.

The initial challenge of the project was to create adjustable animated 3D bodies of men and women. We modeled 3D avatars and created a parametric skeletal system so that users could adjust the height, the width of hips, shoulders, and waist. Avatars also needed to walk on a stage, show the piece of clothing they were wearing, and ask other users for their opinions about the look.

The next step was to create smart interactive tools that automatically apply the user's face and skin color based on a photo of their face. We also created a tool that allows the users to change the model's hairstyle. The next challenge was developing a clothing system. We developed parametric 3D models of clothing from the front and rear-view photos that allow adjusting the shape, style, and texture of the clothing item. We then created an onion-style automatic clothing algorithm to support underwear, like shirts and T-shirts as well as outerwear, like pants, jackets, or coats, all of which automatically overlay nicely onto each other.
Conclusion
Virtual Outfits - fashion e-commerce platform - was a challenging project and we were happy to be its trusted partner. We have made Virtual Outfits a reality, an innovative and attractive social platform for fashion enthusiasts.